Jewellery Steam Polisher Machine
INR
Quantity : 1
Model : TUPLJ
Send Inquiry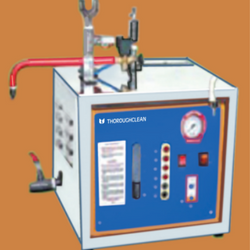 Product Details
Modular Surface Treatment Systems for Ultrasonic Activated Immersion and/or Spray Treatment. Hot Air Dryers, Infra-Red, Vacuum, Solvent and Centrifugal Dryers. Available in Water or Solvent based Ultrasonic Cleaning Systems.
Advantages: Cleaning |De-Scaling| De- Rusting | Phosphating Chemicals for Total
Grinding Particles | Residual Soldering Flux | Wax Warehouse Dust |
Heat Treatment | Watermarks & Particles | Surface Dried Layer | Oil & Grease |
Buffing Compound/Powder |Lapping Paste |Metallic Powder/ Dust| Superficial Rust
Complete Turnkey Projects undertaken for Metal Finishers. Our Complete Range of Metal Finish Equipment will be Environment Friendly.
We are manufacturer Jewellery Steam Polisher Machine for More Than Last 3 Decade. Our Expertise help our customers to provide Machines in Effective Cost with Quantum Performance.
Product Video
Company Details
Thoroughclean Ultrasonic (India) Pvt. Ltd. is a leading provider of contamination removal solutions in India. The company specializes in ultrasonic cleaning technology, which uses high-frequency sound waves to create microscopic bubbles in a cleaning solution, effectively removing even the toughest contaminants from a wide range of surfaces.
BUSINESS TYPE
Exporter and Manufacturer
Company Video
305-307, VARDHMAN CITY CENTRE - 1 Shakti Nagar - Gulabi Bagh Crossing, Delhi
View Mobile Number
Contact Supplier